Specification
Build:

Horizon 2016

Length:27.74m

 (91ft)

Capacity:40

Overnight Guests:10

Cabins:4

Speed:

26 Knots
About Yacht
Perfect Boat for your vacation in Dubai. 91ft aqua yacht is a 27.74m (91′) luxury vessel built by Horizon Yachts and launched in 2016.
This 91ft aqua yacht features inviting and modern interior design with accommodation for you to eight charter guests in four luxurious cabins. There is a crew of four offering onboard service.
Its refreshing modern interiors and spacious alfresco is perfect for relaxation. The main deck aft cockpit is fitted with soda along the stern and a raised dining table for use by the whole group. 91 ft  aqua yacht has a staircase leading up to the flybridge, where the tender is stored to the stern with a Davit crane for easy launch and retrieval. The foredeck is fitted with a loveseat in front of the raised pilothouse with a sun pad behind for resting while taking in the uninterrupted horizon.
For weather reports: https://www.accuweather.com/
Jet Ski rental in Dubai
We offer a range of jet ski models to choose from, each equipped with powerful engines and advanced features that guarantee a smooth and thrilling ride. Our jet skis are regularly maintained and serviced to ensure maximum performance and safety.
Catering
With Empire Yachts' catering services, you can take your event to the next level. Whether you're throwing a corporate event, wedding, or any other type of gathering, our experienced team of caterers will work with you to create a customized menu that is perfect for your occasion. At Empire Yachts, we understand that every event is unique, which is why we offer a wide variety of catering options to fit your needs.
Yacht decorations
At Empire Yachts, we offer a range of yacht decorations services to make sure that your yacht is the perfect reflection of your style and taste. Whether you're planning a corporate event, a family gathering, or a romantic getaway, we have the expertise to create a personalized atmosphere that will exceed your expectations. 
Photo shoot on a yacht
If you're looking for a unique and memorable way to capture your next photo shoot, Empire Yachts has got you covered. Our luxury yacht services offer the perfect backdrop for your vision, providing stunning views and endless possibilities for creative shots.
Cruise Destinations / Cruising Route
Cruise Time: 1 Hour 
Blue Water Island – Ain Dubai Ferris Wheel – JBR – Cape Tower – Marina Mall – West Marina – Dubai
Cruise Time: 2 Hours
Visit the Dubai Marina, JBR, Bluewater Island, the Ain Dubai Ferris Wheel, the One & Only Hotel, and Atlantis, The Palm.
Cruise Time: 3 Hours
Places to visit in Dubai include the Marina, JBR, Blue Water Island, Ain Dubai Ferris Wheel, The One & Only Hotel, Atlantis, The Palm, and Burj Al Arab.
Cruise Time: 4 Hours
Marina — JBR — Dubai The One and Only Hotel — Atlantis — Blue Water Island — the Ain Dubai Ferris Wheel Burj Al Arab, located on Palm, Sheikh, and World Islands.
Cruise Time: 6 Hours 
Marina — JBR — Dubai The One and Only Hotel — Atlantis — Blue Water Island — the Ain Dubai Ferris Wheel World Island, also known as the Palm of Sheikh –Travel from the Burj Al Arab to the Business Bay area via the Helix Bridge, Waterfall Bridge, and Tolerance Bridge. The view of Marina and Burj Khalifa
Addons
It is possible to tailor your yacht charter experience to fit any special occasion you have in mind.
Please get in touch with the reservation agent to discuss any optional extras.
Carte blanche

 The Real Deal Barbecue Cooking on the Grill

 Confetti and Flourishes

 Action Shots from the Water

 Live disc jockey

 As it happens shows

 Service of opulent pick-up and delivery
What To Expect
As you embark on an unforgettable journey, you are bound to experience the ultimate in comfort, luxury, and style! Experience luxury accommodation, fine dining, entertainment, water sports, and exceptional service onboard with Empire Yachts.
Destination inspiration
Have you been dreaming of a luxurious getaway on a private yacht? Look no further than Empire Yachts for your next travel adventure. With a wide range of destinations and yachts to choose from, Empire Yachts offers the ultimate experience in luxury travel. From the crystal clear waters of the Caribbean to the breathtaking beauty of the Mediterranean, Empire Yachts has a destination to suit every traveler's desires.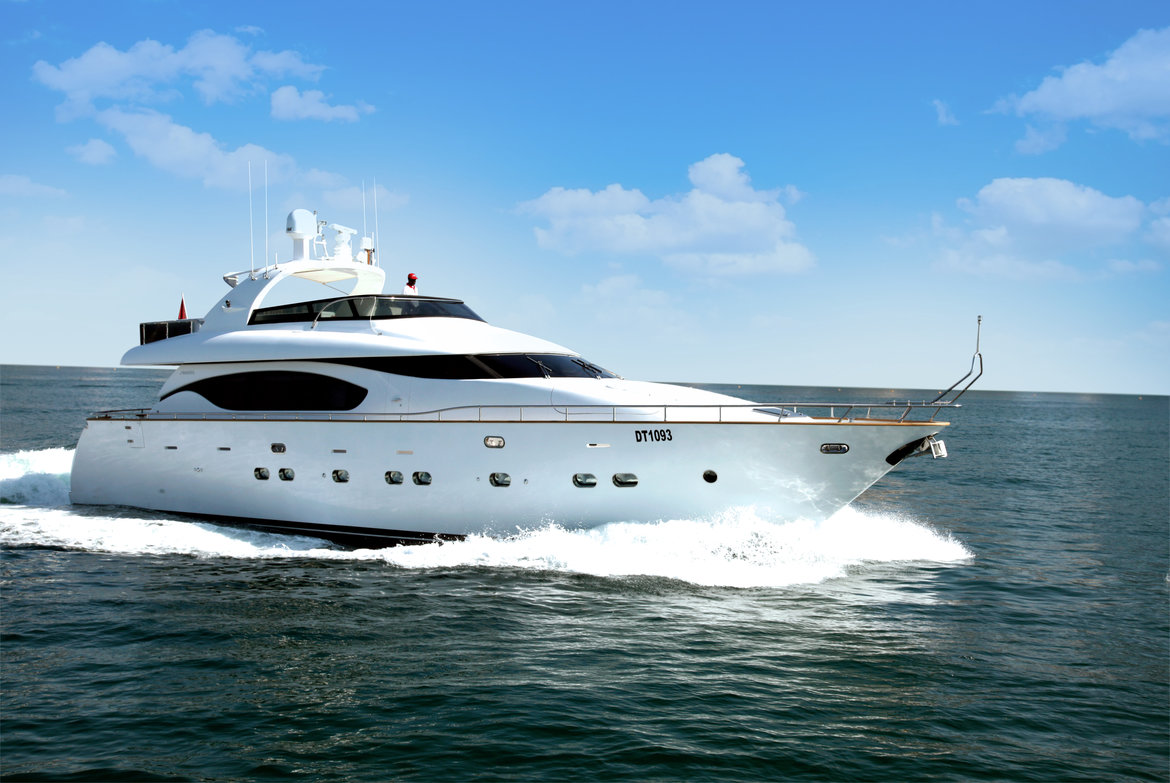 78FT LUXURY MIAORA
Build: Miaora
Length: 24m (78ft)
Capacity: 30
Overnight Guests: 6
Speed: 26 Knots
Per Hour AED 2,400
Daily Price AED 14,400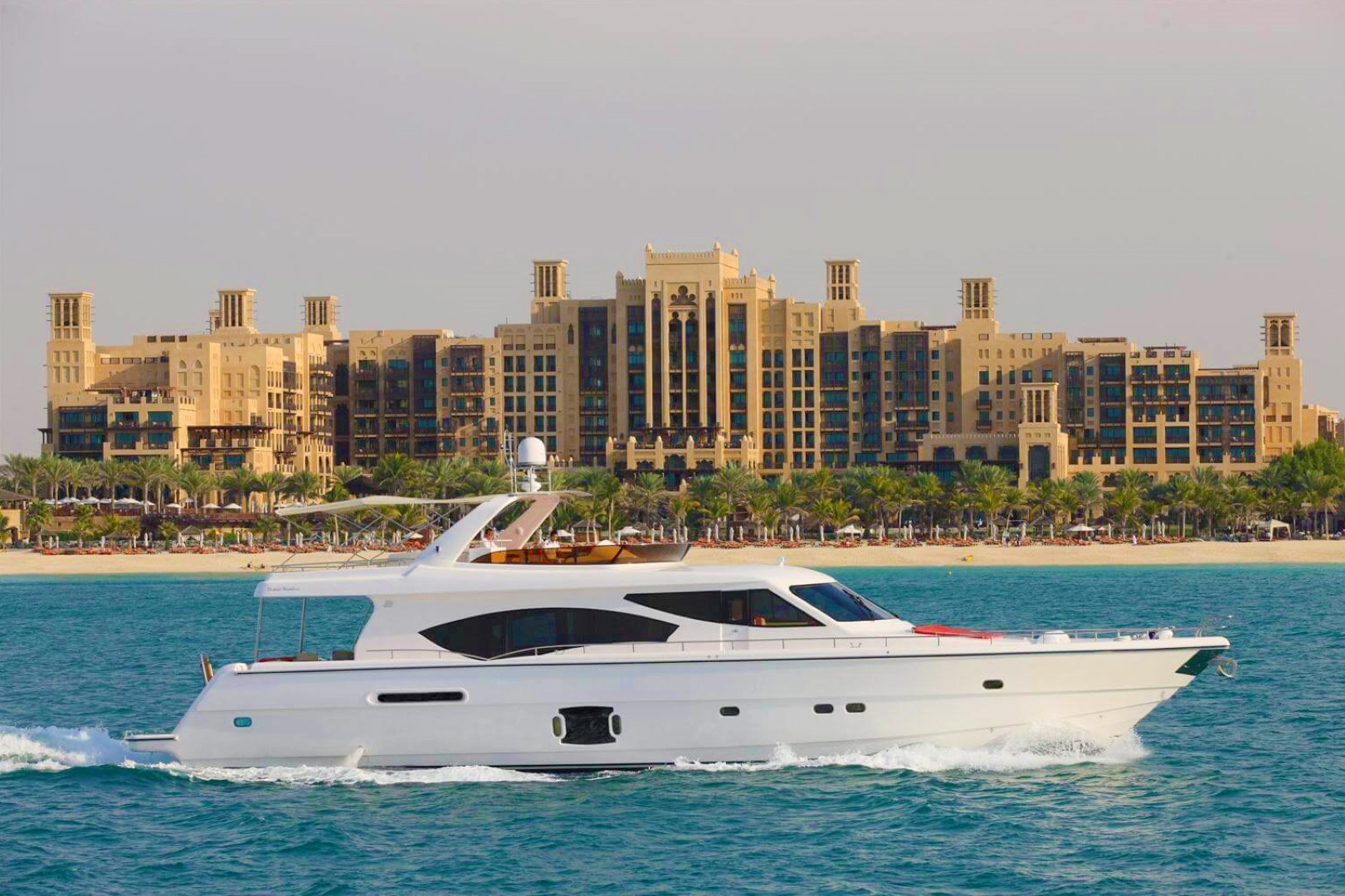 85FT BLACK PEARL YACHT
Build: Duretti
Length: 20m (65ft)
Capacity: 35
Overnight Guests: 6
Speed: 23 Knots
Per Hour AED 1,400
Daily Price AED 9,000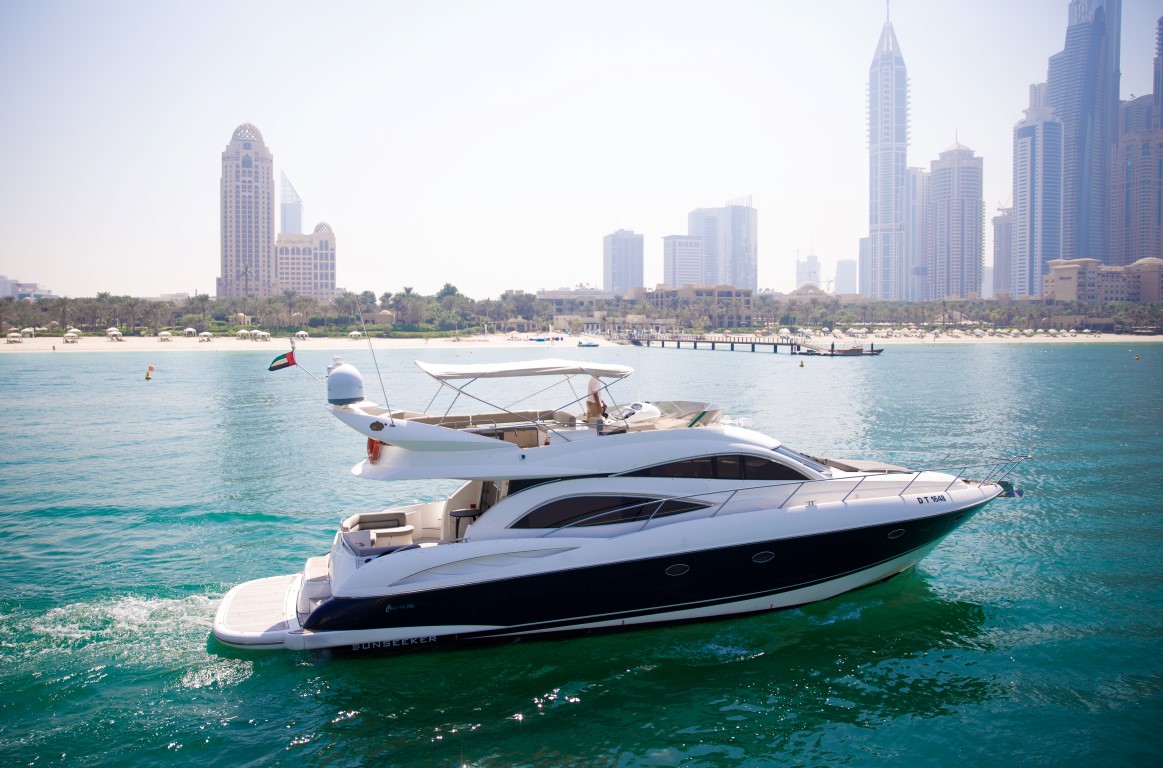 55FT DREAMER YACHT
Build: Sunseeker
Length: 17m (55ft)
Capacity: 16
Overnight Guests: 12
Speed: 12 Knots
Per Hour AED 1,500
Daily Price AED 9,000